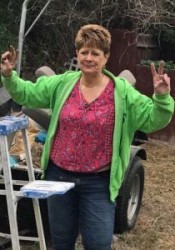 Shyrline Rae Keene
Born:
Sunday Jul-12-1959
Died:
Saturday Oct-08-2022
Funeral:
To Be Announced
Morrison Funeral Home
& Crematory
188 S. Hwy 24
Rupert, Idaho 83350
Contact and Directions
Shyrline Rae Keene born July 12, 1959, passed away peacefully surrounded by family on October 8, 2022 at 6:45am at Intermountain Medical Center in Salt Lake City, Utah.  Celebration of Life and graveside services will be held in the spring of 2023.  A time and place of the services will be announced in a published obituary two weeks in advance.  Arrangements will be under the direction of Morrison Funeral Home, 188 South Hwy 24 in Rupert, Idaho.
CONDOLENCES FOR SHYRLINE R. KEENE
I will cherish the life and memories of my sister always and forever. My condolences to her sons and her Idaho family. Rest easy now sissy and give Uriah a hug for me too. I love you.... Linda Barrett
So sorry for your loss-May your Mom rest in peace. We will miss her sweet smile....Penny Schell
I only knew Shirline as a child. My children had fun playing with her and her siblings. She was a fun- loving child and must have become a fun-loving and thoughtful adult who will be missed by many. Rest in peace......Joyce Shields
Share A Condolence
* The funeral home reserves the right to reject or edit any condolence