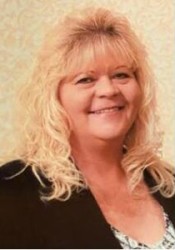 Danyelle Rae Lindstrom
Born:
Wednesday Mar-05-1969
Died:
Wednesday Nov-02-2022
Funeral:
Friday Nov-11-2022
Morrison Funeral Home
& Crematory
188 S. Hwy 24
Rupert, Idaho 83350
Contact and Directions
On March 5, 1969, Olen and Marilynn Baker welcomed Danyelle Rae Baker into the world. Danyelle was the oldest of her siblings, John Baker, Amy John, Matthew, and Brandy Baker.
In 1987, she graduated from Burley High School and later attended Rick's College in Rexburg, Idaho.
In November 1996, Danyelle was wed to Daren Lindstrom and was later divorced. In 2016, she was reunited with her best friend and spouse, Don Christensen.
Being a mother to Branson Baker, Rikki Jade Lindstrom, Sydnee Lindstrom, and Kaya Lindstrom was her greatest achievement. She was a very caring and nurturing mother. She was always at her happiest when she was with her children that she loved dearly. She was also a loving second mother to members of her family and friends.
Dani was always known for being able to light up a room with her humor and personality. She was kind to anyone she met and was always a reliable friend. She was a dedicated animal lover and cared for many different pets.
In her spare time, Dani enjoyed crafting with her family and friends, watching scary movies, crocheting, and visiting with friends. Dani had many friends in her life that also became her family including Teresa Franks, Tina McAllister, Tricia Breeding, Amee Buttars Fiscus, and many more.
Danyelle passed away at her home on November 2, 2022.
She is survived by her children, Branson Baker of Portland, OR, Rikki Jade Lindstrom of Coeur d'Alene, Sydnee Lindstrom, and Kaya Lindstrom both of Pocatello; her niece, Aryssa Palomarez of Shelton, WA, her spouse, Don Christensen of Paul; her father and stepmother, Olen and Janie Baker of Belton, TX, her siblings, Mark (Holly) Berkenmeier of Canton, GA, John Baker of Belton, TX, Amy (Chris) John of Pocatello, and Brandy Baker of Phoenix, AZ.
She is preceded in death by her maternal grandparents, Blaine and Loa Clayton, her paternal grandparents, Elmer and Belle Baker, mother, Marilynn Baker; her brother, Matthew Baker; and her best friend, Teresa Franks.
Services will be held at 2:00 p.m. Friday, November 11, 2022 at Morrison Funeral Home, 188 South Hwy 24 in Rupert.
CONDOLENCES FOR DANYELLE R. LINSTROM
Don, so sorry to hear about Danyelle. Keeping you in my thoughts and prayers..... Linda Christensen
My heart is breaking for you Don. I would love to be there for you at this difficult time however because of my job and the distance, I won't be able to come to her funeral. I will keep you in my thoughts and prayers.....LeAnn Palmer
Dani was one of of my dearest friends and she was like a sister to me. I miss her so much. I love you and will see you again someday. Love and hugs to her children, and to her family.....Tina McAlister Rutter
Don, my heart is absolutely broken for you and the kids! I'm SO sorry for your loss!! I always loved Danyelle In high school and she always made me laugh....Jana Lee Pouget
Dani was my first cousin. Sending my thoughts and prayers to her children, siblings, her father, and friends & relatives. I will always remember her for her bleach blonde hair and being receptive to my big hugs. I will remember her for her love for animals. Dani has left too soon but Hopefully she has had a reunion with her mom and grandma she loved so much......Brian W. Clayton
Dani was one of best friends! Her and I went way back, although neither of us would admit to being that old! I loved her and will miss her!......Tricia Breeding
Dear Danyelle,
I wish I could be there to pay my respects to you and your family unfortunately I have to work… You were a amazing friend to me, I only wish we would have become friends earlier. You had a amazing soul and a love for your kids that I admired so much. I'm gonna miss talking to you. Rest easy my friend. Dear Don, Baker Family, Branson, Sydney and Kaya, I am so sorry for your loss Danyelle was a beautiful lady inside and out. You are all in my thoughts and prayers at this difficult time sending you all love and healing prayers.....Peggy Petersen
There are no words for the legacy Danyelle has left on her family and friends. Danyelle's shining personality will live on in our hearts. RIP my friend no more pain have fun in heaven and having wonderful reunions with loved ones.....Karol Worthington
My Condolences to the Baker and Lindstrom family. Dani was a friend from high school. She was the sweetest person you could ever meet and funny as heck. You will be missed my friend. God Bless.....Amanda Muñiz Villanueva
| | |
| --- | --- |
| | |
Share A Condolence
* The funeral home reserves the right to reject or edit any condolence