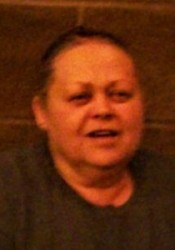 Karin Alice Jackson
Born:
Wednesday Jan-16-1957
Died:
Friday Oct-14-2022
Funeral:
Saturday Nov-05-2022
Morrison Funeral Home
& Crematory
188 S. Hwy 24
Rupert, Idaho 83350
Contact and Directions
Karin Alice Jackson, 65 of Oakley Id. Passed quietly in the care of Creekside Transitional Care & Rehabilitation center in Meridian Id. On Friday, October 14, 2022
Karin was born on January 16, 1957 in Jerome Idaho the second daughter to Keith and Shirley Jackson. She was Inevitably to be #2 of 7. She always claimed to be the Only Adopted child! Karins family moved to Oakley in 1963 where she remained her whole life. She attended school in Oakley and after high school attended Cosmetology school in Twin Falls. She was from then on charged with the care of the family's hair! Karin fell for her "Partner" in Life, John Sherfey in 1989 and the two of them lived Happily "Up the Hill" in Oakley. Though they had no children together Karin cared for and Mentored many a niece, nephew and adopted Grandchild! She was the Favorite "Grandma Karin" and brought much Love into the lives of her Grandkids (Karlee, Zane, Ean and Ellie) She was proceeded in death by both of her parents and a brother (Kasey)
She is survived by her "Partner" John Sherfey, stepson JD(Amber) Sherfey. Many Nieces and Nephews, Two Brothers Albert and Kelly Jackson of Oakley, and three sisters, Kitty (Dennis) Smith of Twin Falls, Tina (Marty) Kearl of Gooding and Kristi (Frank) Sharp also of Twin Falls.
There will be a "Celebration of Life" Luncheon in her Honor on Saturday November 5th at 12:00noon at 105 N. Main in Oakley with burial to follow at the Marion Cemetery.
Share A Condolence
* The funeral home reserves the right to reject or edit any condolence