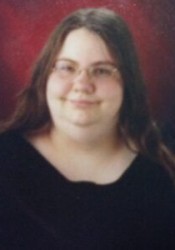 Megan L. Damron
Born:
Friday Dec-26-1986
Died:
Tuesday Oct-11-2022
Funeral:
Tuesday Oct-11-2022
Morrison Funeral Home
& Crematory
188 S. Hwy 24
Rupert, Idaho 83350
Contact and Directions
Megan Leigh Damron
   It is with deepest sorrow that we announce the death of Megan Leigh Damron, age 35 of Heyburn, Idaho on October 11, 2022. Her father found her unresponsive in her bedroom the day after his birthday. Megan was born December 26,1986 in the Rupert hospital, as were her mother and four siblings. Her mother is Nancy Damron -57 from Jerome, Idaho. Her father is Steven Damron -69. He was born in Iola, Kansas and currently of Heyburn, Idaho. Her siblings are Rebecca Damron -26, Kayla Damron -29, Michael Damron - 32 all of Heyburn, Idaho and Samantha Jolley -39, Samantha's husband, James Jolley -38 and their five kids, Jonathan -18, Alayna -17, Brendan -13, Connor -8 and Nora -11 months all of Boise, Idaho.  Megan graduated from Minico High School in May of 2006. She remained single and without children. She is very much loved by her parents and siblings who are devastated  by her loss. I love you Funny Face. You are my sunshine!! 
  A life memorial service for Megan will be held 2 pm on November 12th at the Morrison Funeral Home in Rupert, Idaho. Her ashes will be interred at the Rupert cemetery afterward.
CONDOLENCES FOR MEGAN L DAMRON
I was Megan's teacher. She was a pleasant and kind student. Rest in peace Megan. My sympathy to her family.....Vicki Edgar
Share A Condolence
* The funeral home reserves the right to reject or edit any condolence