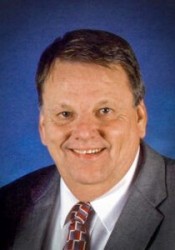 Garry L. Stevenson
Born:
Friday Dec-07-1945
Died:
Saturday Oct-29-2022
Funeral:
Friday Nov-04-2022
Morrison Funeral Home
& Crematory
188 S. Hwy 24
Rupert, Idaho 83350
Contact and Directions
RUPERT – Garry Lynn Stevenson, 76 year old Rupert resident passed away Saturday, October 29, 2022, at his home. He was born December 7, 1945, in Burley, the second child of Jesse Milton and LaVonne B. Campbell Stevenson. His father passed away when he was three years old. His mother married Darwin Green and he raised Garry and Keith as his own. His baby sister, SuZanne, joined the family in 1963.
Garry attended school in Burley until the 3rd grade when the family moved to Rupert. He started 4thgrade at the Lincoln School. He graduated from Minico High School in 1964. Garry was an all around athlete, participating in football, basketball and track. He held the Minico High School high jump record for many years. His greatest love was basketball and his left-handed fall away jump shot was impossible to guard.  It helped him obtain a scholarship to Boise State University.
He was baptized a member of The Church of Jesus Christ of Latter-day Saints in 1958.
Garry married Linda Nelson on December 26, 1975, in Reno, Nevada. Their marriage was later solemnized on August 27, 1983, in the Ogden LDS Temple. Together they blended two families, raising seven children.
Garry was an avid outdoorsman. He loved hunting, fishing, riding motorcycles and snowmobiles, and camping.  He loved horseback riding and was a member of the Cassia County Posse for many years.  He loved to teach his children and grandchildren to hunt, fish, and play sports. Garry and Linda also enjoyed traveling and went on several cruises.
Garry was the service manager at Goode Motors for many years. In the early 80's, Garry and Linda started Garry's Tires in Burley. They operated the store until 2005 when they retired.
Survivors include his wife, Linda; seven children, Jamie (Joe) Larsen of Burley, Tammi (Fred) Leoni of Heyburn, Thad (Lynne) Stevenson of Boise, Steve (Kori) Pavkov of Heyburn; Tiffany (Rex) Stiehl of Meridian, Shane (Valerie) Stevenson of Mt. Home and Heather (Josh) Harper of Rupert; his sister, SuZanne (Will) Patrick of Boise; 21 grandchildren; and 16 great grandchildren. He was preceded in death by his parents; his brother, Keith Stevenson; and a grandson, Sam Jones.
Funeral services will be held at 11:00 a.m. Friday, November 4, 2022, at the Heyburn 1st & 2nd Ward Chapel of the Church of Jesus Christ of Latter-day Saints, 530 Villa Dr. in Heyburn, with President Brock Mitchell, officiating.  Burial will be in the Rupert Cemetery. Friends may call at the Morrison Funeral Home, 188 S. Hwy 24 in Rupert on Thursday from 6:00 to 8:00 p.m. and at the church from 10:00 to 10:45 a.m. prior to the funeral on Friday. A live webcast of the funeral will be available at the following link: https://youtu.be/nH3Gy8whLb0
CONDOLENCES FOR GARRY L. STEVENSON
So sad and sorry to hear of Garry's passing. Such a wonderful humble and Special man. May prayers go out to Linda and the whole family. So young to be called home....Dennis Oscar Peterson
Gary was one of the nicest men around. He took care of any vehicle we took in always giving us such sound advice. I knew him years before I met his darling daughter Tammi Leoni. She became one of my dearest and best friends ever. The stories she has told about her Dad only made my opinion of him better. The last time I saw Gary was at the Milner gun range…doing what else? Supporting his grand kids of course. You will be greatly missed Gary.
We are so sorry for your loss Tammi, Fred, Trey and Ashley.....Tia and Walt Mullins
Our deepest condolences to Linda and the entire family. Our community lost a humble, patient, and kind man! Gary and Linda were wonderful back door neighbors growing up. My Dad still talks about a time when he had surgery and was unable to service his vehicle himself Gary did the needed service at no charge. This act of kindness has been remembered by our family all these years later. It helped me to realize the importance of helping others! .....Kevin & Melissa Simmons
I am so sorry for my two good friends, Shane and Heather… May God gives them support and peace in their hearts.
Mr. Stevenson is with God forever and ever. Peace unto his soul.
Hugs and all my love for Stevenson family.....Ángel Narváez C. Lima, Peru.
Condolences to you and your family on the loss of a great man. JoAnn and I have very fond memories of interacting with you and your family over the years. Garry was always someone you could count on to brighten a day. That is a great contribution to all in a world that can be difficult. May you and your family have a very special time reflecting on all of the good memories and celebrating Garry's life. All the best to you and the family......Kelly & JoAnn Bessire
Connie and I offer our sincere condolences to the Stevenson family. A special thought to Thad, Lynne, Shay ant Ty......Jim Trussler
Share A Condolence
* The funeral home reserves the right to reject or edit any condolence