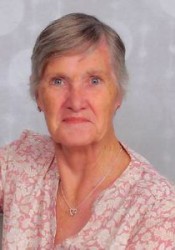 Sharon F. Jones
Born:
Friday Sep-19-1941
Died:
Tuesday Oct-04-2022
Funeral:
Thursday Oct-13-2022
Morrison Funeral Home
& Crematory
188 S. Hwy 24
Rupert, Idaho 83350
Contact and Directions
Oakley -
Long-time Oakley resident, Sharon Faye Jones, passed away October 4, 2022 in Burley, Idaho.  Born September 19, 1941, to Ila Martindale and Garth Stephens, Sharon was raised by her maternal grandparents, Stan and Nettie Martindale and spent her youth in Oakley.  She graduated from Oakley High School and later received a certificate of completion in Interior Design.
Sharon owned a custom drapery business for many years.  She ran the business out of her home while raising her children and several neighborhood kids as a mostly-single parent.  Later on Sharon worked at Clark's Grocery Store in Oakley and finished her working life at Mill Ends Fabric store in Burley.
Sharon loved Oakley.  She wrote, published and distributed "The Town Crier," a newsletter about Oakley and surrounding area, for several years.  Additionally, she wrote "A History of Oakley, Idaho" which she published as a pamphlet.  Sharon was a member of the local chapter of the DUP.
Sharon's hobbies included all-things-sewing, quilting, tatting and knitting, camping and reading.
Besides her children and grandchildren, two of the things that Sharon was most proud of in her declining years was building her duplex at 170 North Church Street where she lived for over 20 years.  She was also proud of serving an eighteen month mission for the Church of Jesus Christ of Latter-day Saints to Scotland in 2003.
Sharon is survived by her brother, Ronald Kondracki, and her children:  Gena (Monte) Lott, Geoffrey Papp, Chuck (Julia) Jones, Chris (Kristi) Jones, Tonya (Shane) Fridley, Tammy Jones, Dawn (Rusty) Sanders, and Erman (Rachel) Jones.  She leaves behind eighteen grandchildren and seven great-grandchildren.  She was predeceased by her grandparents; her parents; her step-father, Donald Froemming; brother, William Kondracki; and son, Steven Jones.
Funeral services will take place Thursday, Oct. 13 at 11:00 a.m. at the Church of Jesus Christ of Latter-day Saints: 355 North Center Ave., Oakley, Idaho, with a viewing the previous evening: Oct. 12, also at the Oakley chapel from 5-7 p.m.  Services will be provided by Morrison Funeral Home. 188 South Hwy 24 in Rupert:  A live webcast of the Funeral Service will be available and maintained at the following link:https://youtu.be/-ohmPV9W3cw
CONDOLENCES FOR SHARON F. JONES
What a wonderful lady and a great friend. Our sincere condolences to all her family. A lady who lived by the way she believed and who loved all her family. She had a powerful testimony too. May she enjoy seeing all who have passed before her....Joe Stringham
Sending my love and prayers to all her family and loved ones.....Heidi Stringham
So sorry to hear about Sharon's passing. I enjoyed getting to know her better at Tri-ward quilting. Kent and I enjoyed her hospitality while we lived in Oakley for a couple of years....Julie Evensen
She was my niece by marriage. I admired Sharon for her many many talents. Saw her many struggles to raise her family to become good productive adults. Rest in peace dear Sharon...Joan Tater Martindale
We would like to send our deepest condolences to Sharon's family and loved ones. May your hearts find peace during this time as you say goodbye to one talented and sweet lady. We have very fond memories of Sharon and was always in awe with all the projects that she created. Like I said, she could created anything and they were so beautiful and magical to behold. I also always loved going to school with Gena and walking through the streets of Oakley with our friends. During our youth, those were magical times. Gena, thanks for giving such a wonderful talk about your mother and like your mother, you are so blessed with many gifts from the "ARTS" that no one could match your skills. Sandy and I would like to send our deepest love you and Monte and we are so sorry for the loss of your mother. We hope that you will feel her light during this time of sorrow We also loved the bagpipes at the end of the service which was a real treat and it is truly Sharon. Bless your hearts during this time, we are thinking about you... Dean and Sandra Harper
Share A Condolence
* The funeral home reserves the right to reject or edit any condolence