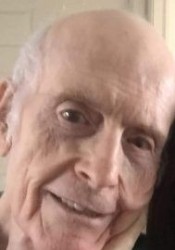 LaVar E Whittle
Born:
Friday Mar-27-1931
Died:
Saturday Sep-03-2022
Funeral:
Private Service
Morrison Funeral Home
& Crematory
188 S. Hwy 24
Rupert, Idaho 83350
Contact and Directions
LaVar "E" Whittle of Oakley, ID passed away Saturday Sept. 3, 2022.  He was 91 years old.
 LaVar was born in Oakley on March 27, 1931 to Ezra Freeman Whittle and Fern Harper, both of Oakley. He was the oldest of 5 children, 3 brothers and 1 sister.  He lived in Oakley during his youth and school days attending the local schools, and helping his father as a stone mason.  He had the opportunity to use the skills he learned in working with stone his whole life.  He helped his father lay stone on the front of the Oakley LDS meeting house, in people's homes and yards including the houses he would live in while in California making retaining walls, fence walls, and indoor fireplaces etc. He and his brother Eugene (Bill) worked on the retaining wall surrounding a Provo UT LDS chapel after High School.
  During High School he played on both the basketball, football teams and ran track.  He was the Sr. Class President.  He would coach the church basketball team for many years and teach Sunday school while he lived in the Granada Hills II Ward raising his family.
  At the age of 15, he earned his Eagle Scout Award in Oakley troop 22 of the Boy Scouts of America, along with 5 other boys. This was a huge accomplishment in 1946 for a small town and the boys were taken by their Bishop and troop leader to Salt Lake City for 2 days of visiting Temple Square, meeting Pres. George Albert Smith and others, as well as fun at Lagoon.
  After he graduated in 1949 from Oakley High School, he spent some time in the Idaho National Guard, and attended BYU for 2 semesters. In Jan 1951, he enlisted in the Navy during the Korean Conflict. His release was at the end of March 1952 with a medical discharge.  He didn't like to talk about this time in his life, and often would not acknowledge being a Veteran.
 After returning home he met Arlene Larsen of Idaho Falls where they married on Dec. 30, 1952. He transferred to USC in CA to continue his education. They had 2 boys, David and Robert, before being divorced in 1956.
  LaVar was attending USC, majoring in Electrical Engineering, when he met his 2nd wife Marion A Knight of SLC, UT at a church dinner dance 5 days before Christmas 1956.  They were married on Feb. 1, 1957 and lived in student apartments while he finished school.  They had 2 daughters, Linda and Sherry, while he did an internship at Lockheed Aircraft and finished his BS in EE.  LaVar worked for several major companies in the Los Angeles area such as Lockheed, McDonnell Douglas and Hughes Aircraft Co.  He and Marion bought their first home in Granada Hills, CA in May 1961 and their 3rd daughter Tammy was born 3 months later. Seven years later in 1968 a boy, Randal was born.  During these years, regular summer visits from David and Rob were enjoyed and David would eventually stay in CA permanently about age 13. The first home was too small so a move was needed in early 1969.  
  LaVar's work as an engineer saw him being involved with patents for the fast developing technology world. In the Mid 1970's he was a partner in Allen Electric and Equipment Diagnostic Research and developed the diagnostic machine that revolutionized the auto mechanic world. If you see a Sun Electronics diagnostic machine for older cars, that was due to him. 
  During the notorious "energy crisis" of the later 1970's, LaVar was laid off from the electronic world, but had small time working for StaPower, a car additive product.  With this job within 1 year he moved his way from salesman, to VP of the International Dept.  He traveled all over Europe, Africa, and some Asia with this job before it ended.   Eventually in 1976, he moved his family back to Oakley.  He farmed with his cousin, cleaned the church bldg., and still used his skills to create innovative ways to grow huge crops of strawberries and raspberries in his backyard.
  In 1983, they moved back to So. Ca, where Marion managed different apartment buildings. LaVar did the landscaping care as retirement age crept up on him.  In 2010 they both finally retired and built a home again in Oakley to spend the rest of their days.  Even when LaVar lost the use of his legs about 4 years prior to his death, he refused to give up that he would walk again, and also refused to leave his home, which is where he left this life, as always on his terms.
  LaVar is predeceased by his parents, one brother Eugene, his wife Marion, two children Sherry Holdaway and Randal. Randal's wife Vicki Webb, their two children his grandchildren, MacLean & Brittany, 3 other grandchildren Michael, Jason, & Valerie.  He is survived by 4 children, David (Kathy) Whittle, Robert (Joy) Whittle, Linda (Greg) Norris, & Tammy (Evan) Willian. 15 grandchildren, and 27 or more great-grandchildren with another on the way.
  It was LaVar's request to not have funeral services.  His remains are taken care of by Morrison Funeral Home and Crematory in Rupert, ID. His burial of ashes will be in the family plot in Oakley, ID next to his wife Marion as he requested.
CONDOLENCES FOR LAVAR E. WHITTLE
Sending our love to Tammy and Evan. We are so sorry to hear about your father's passing and so soon after your mom's passing. I guess that he just couldn't live without her. May your hearts find peace during this time and we are thinking about you during this time. We hope that all is well for the both of you and with your family.....Dean and Sandra Harper
I met LaVar when I was working at Computer Measurements Co. (CMC) in Sylmar California. I had been there less than a year when he was hired as a senior engineer. I was just starting my engineering career and he and I became instant friends. He taught me much primarily in the field of circuit design which at that time was his specialty. He left CMC to join a start-up company, Universal Testproducts Inc. (UTI) as Vice President of Engineering. After approximately a year UTI was acquired by Allen Electric and Equipment Co. LaVar and I continued to get together including several Family outings. He finally convinced me to leave CMC and join him at UTI. By this time, he had developed exceptional skills in systems design, and he became a major mentor to me in both engineering and program management. We worked together for over five years and when UTI was moved to Michigan and merged with Allen Electric we went separate ways but still got together for dinners and occasional outings. However after he moved from California we connected only by occasional phone calls and exchange of Christmas card notes.
LaVar had a major effect on my career. I owe much to him for that and for the many times we spent together in long conversations regarding life, work and solving the worlds problems. He also indirectly caused my two daughters to join LDS. When my oldest daughter mentioned that she was impressed with the clean cut young men that were going door to door in the neighborhood I told them they were Mormons. When she began to ask questions, I told her I could help her with that. LaVar had had the missionaries come to our home and provide a felt board presentation several years before, so I called the church and arranged for a new presentation. My daughter became very interested and a couple of months later joined the church. A year later my younger daughter joined also. She later graduated from BYU and both of my daughters now live in Utah and are very active in the church.
So, the effect LaVar had on me and my family is more than, I'm sure, he ever imagined. My life and my family's life would have been very different if I had never met LaVar.
I was just going to give my condolences, but I couldn't help but tell the story of "LaVar and Me". Not many people have such a great effect on those whom they meet in life. For those who knew him, I know what you have lost.....Don Janess
Share A Condolence
* The funeral home reserves the right to reject or edit any condolence