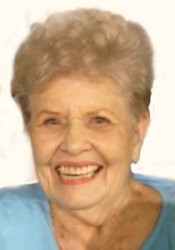 Clea May Wilkinson
Born:
Friday Apr-10-1925
Died:
Wednesday Aug-31-2022
Funeral:
Saturday Sep-10-2022
Morrison Funeral Home
& Crematory
188 S. Hwy 24
Rupert, Idaho 83350
Contact and Directions
Clea May Preston Wilkinson, 97, passed away August 31, 2022 at Spring Gardens, Memory Care, in Mapleton, Utah, surrounded by her loving family.
Clea May was born April 10, 1925 in Declo, Idaho, the eldest child of Cline and Emma Frederickson Preston. She often spoke fondly of growing up on the family farm in Declo with her brothers Fred and Joe.
Everywhere Clea May went she brightened lives with her sweet, outgoing spirit and amazing smile! People were drawn to her because of her loving and warm heart.
Clea May married Lloyd Wilkinson in 1944 and she later achieved her goal of solemnizing their marriage in the Salt Lake City temple. They lived in Hailey and then on a farm in View before settling at their permanent home in Burley, where they raised their family. She loved Burley and her home there. She always made holidays special with her beautiful decorations and large family meals. She and Lloyd loved to travel and especially enjoyed road trips so they could see the countryside. They also enjoyed spending winters in Arizona for many years, returning to Burley after the spring thaw. Clea May was an active member of the LDS church and enjoyed filling various service positions over the years. In her older age, she was highly appreciative of church members who helped her stay connected when she was no longer able to attend services.
Clea May had a special place in her heart for her children, grandchildren, great-grandchildren …and yes, even great-great-grandchildren. She absolutely couldn't get enough of the little ones, but not just her own; she simply loved children and especially babies! 
We will all feel the void of her not being with us; until we meet again. We are so grateful for her life and the legacy of love that she has left with us.
Clea May is survived by her children Trina Lea Wilkinson, Mesa, AZ; Preston Dean Wilkinson, Boise, ID; Teresa V. Powell, Sandy, UT;  Lloyd Chad Wilkinson, Mesa, AZ; Scott Wilkinson, Boise, ID and Emmalee Aron, Boise, ID. 14 grandchildren, 39 great-grandchildren, 5 great-great-grandchildren. two sisters-in-law, Doris Preston, and Joyce Preston and many nieces and nephews.
She was preceded in death by her loving husband Lloyd V. Wilkinson, her parents Emma and Cline Preston, brothers Cline Fred Preston and Charles Joseph Preston, and one granddaughter Alicia Maye Fowler.
As a family, we would like to give special thanks to her caregivers Scott Wilkinson and Emmalee Aron, Dr. Kara Kuntz and her staff at St. Alphonsus Geriatrics, the staff at Spring Gardens Memory Care, and Yarrow Hospice.
Funeral Services will be held at Morrison Funeral Home, 188 S Hwy 24, Rupert, ID, Saturday September 10th with a viewing being held at 11:00 a. m.; Service following at 12:00 p.m., with graveside dedication immediately following her service, at the Declo Cemetery.
In lieu of flowers, donations can be made to Primary Children's Hospital at https://intermountainhealthcare.org/primary-childrens.
A webcast of the services will be found at the following link: https://youtu.be/4gLKHtrLvqU
Condolences for Clea May Wilkinson
My condolences to the Preston Wilkinson family, especially to Mr. Chad Wilkinson for the death of his mother Clea May Preston Wilkinson, A big hug and strength in his soul..... Elcy Rujano
Our dear Chad and Scott, We are So sorry for the loss of your PRECIOUS Mother. We wish there were Some words of CONDOLENCES we could share that would ease your sorrow.
Please know you are in hearts and prayers.  With our love……Rob and Sue Frame
I Have great memories Of your sweet mom! She always was so very kind and Had such a beautiful smile. We are never ready to Say Goodbye to our loved ones. My Prayers for your comfort and peace at this difficult time.....Gay Dawn Downs
MY CONDOLENCES TO THE WILKINSON FAMILY ON THE LOSS OF YOUR MOM, CHAD, AND GRANDMOTHER. SHE WAS A WONDERFUL LADY ALWAYS SWEET AND POSITIVE. MAY YOU ALL HAVE VERY SPECIAL MEMORIES TO HOLD IN YOUR HEARTS OF HER UNTIL YOU MEET AGAIN......Beth Yochum
Our condolences to the Wilkinson family. Clea was a most gracious lady. We were blessed to enjoy her as our neighbor for many years…the Staley family.
If May was able to see her own funeral, I easily picture her laughing and smiling through the whole day. And, yes, sharing tears as well. Would have loved to be there with the family to say, 'see you later'. But the next best thing was having this video to watch. What fond memories I have of May and the whole family. God Bless you all......Angela Skaggs Gloria
I had the pleasure of visiting with Clea May, only a few times, when she was in the loving care of Scott. She was such a positive, charming person, with a lovely smile & laugh. I really enjoyed our conversations & only wish I had the opportunity to know her in her earlier years. I'm sure we would have been very good friends. My prayers & kind thoughts to all her loving family. I know you all have many wonderful memories to lean on at this very sad time. My heart felt condolences to all the family, & friends, at your great loss of beautiful Clea May......Jimi Bradfield
Share A Condolence
* The funeral home reserves the right to reject or edit any condolence