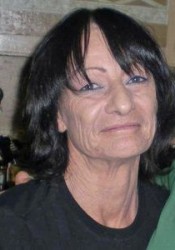 Pamela Bloyd
Born:
Sunday Jan-25-1959
Died:
Saturday Aug-20-2022
Funeral:
Private Service
Morrison Funeral Home
& Crematory
188 S. Hwy 24
Rupert, Idaho 83350
Contact and Directions
Pamela Kay Jacobsen Bloyd,63 of Rupert Idaho passed away Aug 20th in her home surrounded by her family. Pam was born January 25th, 1959, in Rupert to Kay and Billie Jacobsen, she is the oldest of eight children. Her parents worked in the farming industry, she was raised in rural areas, so she appreciated country living and raising a garden. She loved spending time with family and friends and talking about (as she would say) the good o'l days and being involved with the church. She also enjoyed helping with the school carnivals, but her favorite time was spent fishing and doing her crafts. Throughout her life she had many jobs but the one she will be remembered for is when she made jerky, (people called her the jerky lady) she had a big heart and enjoyed helping others in need and would do just about anything for anyone. She is preceded in death by her grandparents Chuck and Mary West, Richard and Elsie Jacobsen, her parents Kay and Billie Jacobsen, one brother Charles(chick)Jacobsen, and one nephew Tony Jacobsen. She is survived by her husband Max, her daughter Melissa, her grandchildren, one brother, five sisters, and several Uncles, Aunts Cousins, nieces, and nephews.
A Celebration of life will be held in her memory at a later date. Family and Friends will be notified.
Condolences for Pamela Bloyd
I miss you so much.
Jessica West
She was always smiling regardless what may have been in her corner at the time. Her laugh was contagious and I loved when she would pull out those "10 ft"  fish and make my husband blush with envy. She was there if anyone needed her and i have no doubt that her work will continue in this next stage of "life". She will be missed here but a party is being had above so no sorrow needed.
Christi Morris
I miss her early morning honks on her way to the fishing hole!, the smell of catfish cooking when I got there! She was a true friend and will be missed by so many! Her pain is over and she's at the big fishing hole in the sky!
Amy Purin
Will miss this beautiful friend who made the best peanut butter and chocolate candies. Peace to all.
Linda Stark
She was always so happy to help serve at Acequia in whatever or where ever she could… Always enjoyed doing the Carnivals always willing to help… Angie Homer
I have many wonderful memories from childhood at this ladies house. She was a wonderful kind hearted lady. She will be missed. My condolences to her family.....Jessica Hall
I am so sad to learn of Pam's passing.
Pam and I became friends in 6th grade when we both went to Aiken Elementary in Ontario, Oregon. The next year in Junior High I used to walk home with her during lunch time and we would help her mom with laundry and look after the little kids. We would grab a sandwich and head back to school. In 8th grade Pam's family moved to Mtn. Home, Idaho.
Next time I would see Pam was at her wedding to my brother, Jerry Michael Gyllenskog.
Years later Pam and I reconnected on Facebook. We always talked about planning a fishing trip together. We never got to do that. We did enjoy laughs together and some fond childhood memories. Until we meet again my friend. God Bless her family and friends....Julie Gyllenskog Doyle
Share A Condolence
* The funeral home reserves the right to reject or edit any condolence