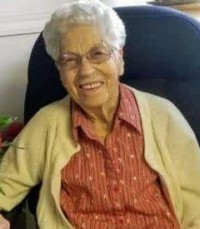 Cleo M. Gee
Born:
Friday Jun-05-1925
Died:
Wednesday Jul-07-2021
Funeral:
Thursday Jul-15-2021
Morrison Funeral Home
& Crematory
188 S. Hwy 24
Rupert, Idaho 83350
Contact and Directions
CLEO M. GEE
OAKLEY -Cleo Melvina Morgan Gee of Oakley, Idaho passed away Wednesday, July 7, 2021. Cleo was born June 5, 1925 in Declo, Idaho to Wilford Charles Morgan and Dessie May Hill Morgan. Cleo was the sixth of nine children and the first girl to join the family. She grew up on the family homestead and completed her education in Declo. Cleo married Charles Raymond Gee "Cherry" on September 26, 1942, in Rupert, ID. The happy couple had five children: Robert, Jean, LaDean, Judy, and Randy. They raised their children in Oakley.
Cleo was a member of The Church of Jesus Christ of Latter-day Saints. She served in the Relief Society and Primary.
Cleo was employed by Clark's for Shopping for over forty years. She loved the customers and they loved her.
Cleo is survived by her children Robert (Ann) Gee of Burley, LaDean Woodall of Oakley, Judy (John) West of Twin Falls, Randy (Fatima) Gee of Oakley, her brother in-law Kay Powell of Albion, her sister in-law Barbara Morgan of Boise, her grandchildren Tony (Caroline), Paul, Les, Ray (Mary), Duane, Jeanne (Dan), Shelly, Robby, Kammi (Ryan), Cherri, James (Melissa), Jonathan (Gwen), Jodi (Jay), Cody (Tara), and Ali (Brandon), her bonus grandchildren Admir (Amela), Alma, and Amira (Cesar), and countless friends and neighbors.
Cleo is proceeded in death by her eternal companion Cherry Gee, her parents Wilford Charles and Dessie May Morgan, her siblings Clint (Hazel) Morgan, Mike Morgan, John (Veda) Morgan, Roy (Virginia) Morgan, Cecil (Luella) Morgan, Dallas Morgan, and Della Morgan, her daughter Jean Seal, her son in-law Gary Woodall, and her great-grandchildren Brittney Silver, and Brandon Silver.
Funeral services will be held at 11:00 a.m. Thursday, July 15, 2021 at the Oakley Stake Center, in Oakley with burial to follow in the Oakley Cemetery. A viewing for friends and family will be from 5:00-7:00 p.m. Wednesday, July 14, 2021 at the Oakley Stake Center in Oakley and from 10:00- 10:45 a.m. at the church prior to the funeral.  In lieu of flowers please make a donation to the Oakley Valley Historical Association POBox 239 Oakley, ID 83346. Arrangements are under the direction of Morrison Funeral Home 188 South Hwy 24 in Rupert
Condolences for Cleo Gee
Condolence
Cleo was a sweet lady and a friend to all. She will be missed dearly. Alesha and I give our sincere condolences to the family. May ya have peace and comfort from above.
Joe Stringham
Condolence
She was a very sweet amazing lady. I always loved seeing her when I lived out there and would go into Clarks. My respects to a wonderful family and amazing daughter Ladean. Love u all
Heidi Stringham Robbins
Condolence
SORRY to hear of your mother's passing. I will always remember her as a long time fixture at Clarks grocery store . Please accept my sincere condolences at this time. Sad to hear of Gary's passing also.
Lyle Sager
Condolence
I will always remember Cleo being so kind to my grandmother, she was a Loving neighbor to her!
She was a caring person!. My condolences to the family!
Tanya Nix
Share A Condolence
* The funeral home reserves the right to reject or edit any condolence