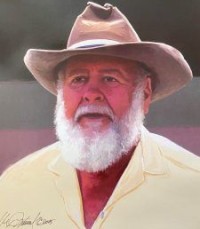 Joseph W Adams
Born:
Monday Dec-02-1935
Died:
Tuesday Jun-29-2021
Funeral:
Wednesday Jul-07-2021
Morrison Funeral Home
& Crematory
188 S. Hwy 24
Rupert, Idaho 83350
Contact and Directions
Joseph W. Adams, a local resident of Paul, Idaho, passed away peacefully at his home on June 29th, 2021. He was an avid outdoorsman participating in a wide variety of activities throughout his lifetime including snowmobile racing and hunting though he was most famous for his adventures with his wagons and mules. 
Joe was born on December 2nd, 1935 in Burley, Idaho to Sterling and Ferl Adams of Albion who had a total of fourteen children. He married Jacqueline Engstrom in 1955 and started work at John Deere later joining the Army National Guard serving for a total of 7 years. 
His proudest accomplishment was being able to open and run his own business. He first opened Snake River Tractor and then with the help of his wife, Glenda Crawforth who he married in 1979, moved his business to Paul, Idaho and began Burley Tractor Salvage. Prior to this he had worked at Elliott's John Deere and was a renowned bailer man. 
In 1979 he married Glenda Crawforth. 
During his life he also built many wagons including two ore wagons, a chuck wagon, and several sheep camps. He traveled many miles with his mule team reenacting parts of the Oregon Trail, the Donner Party Trail, and Custer's Trail to name a few. 
One of his favorite places was the Featherville area. Each year he made time for several weeklong hunting trips with friends and family, packing in over 10 miles on their mules no matter the weather to set up camp in the mountains.
Frugally minded, he was always a man with a plan and knew what a good deal was. He was a great relic of a past generation of tough pioneers. A smart businessman, a loyal friend, caring husband, a devoted father, and a loving grandfather Joe Adams will be greatly missed by all those who loved him. 
He is survived by his wife Glenda Adams, his three children:  Penny Bryan, Joseph "Joey" Adams, and Tamera Schaeffer, eleven grandchildren: Jeremy, Valerie, Becky, Bethany, Laramie, Sarie, Kuri "KD", Tyler, Austin, Brogan, and Esther, and eighteen great grandchildren. 
A grave-side memorial service will be held at the Paul Cemetery at 10:30AM on July 7th, 2021. The family does encourage those who attend to bring their own chair.  A potluck style meal at the Paul Park in the DL Evans Pavilion will follow the service. Services are under the direction of Morrison Funeral Home.
Condolences for Joseph Adams
Condolence
Penny and Joe (Joey), so incredibly sorry to hear of your dad's passing. So many wonderful, fun memories spent with The Adams family. Baseball, picnics, riding to out of town games in the back of the camper . Joe always had a smile on his face and adventure in his heart! Sadly I haven't seen him in years, but I thought of him and you kids often. Joe Adams was a great, kind, loving man and his absence will be felt deeply. Sending love and comfort to you all.
Jann McCoy Beale
Condolences
We are so sorry for your loss. Much love to your Family.
Todd and Kathy Adams
Condolence
Fond memories of our Arizona winters. The mule wagon rides on the desert. Rest in peace Joe.
Jackie Graham
Condolence
My sincere condolences 
Terry Tar
Condolence
Glenda- i am so sorry for your loss. Joe was such a great guy-Even though Daniel (who is Now 19) still believes Joe Lost his finger picking his nose!!
Lori Bad
Condolence
I am struggling to find words to Express my sorrow at the loss of this man. Mothers little brother, my uncle and friend, Tony's partner in crime. There are so many memories. My heart and prayers go out to all those that loved him. R.I.P uncle Joe.
Linda Pruitt
Condolence
Best Santa Claus ever. Just ask all the grandkids. Will miss this man's man.
Steve Hammons
Condolence
Dan and I truly loved Uncle Joe he was a one of a kind. Man of many stories of great Adventures. He Cowboyed up and went to heaven. Love you aunt glenda and family.
Carol Rice
Condolence
Tough stuff. My heart hurts cuz I know yours does. What an awesome guy who always had a smile, and was high on just life. Enjoy your next adventure joe!
Becky, Perry, Mallory
Condolence
So sorry for your loss aunt Glenda! I'm so thankful for the last day I got to visit uncle Joe and you together. Love you so much. Hugs
Angel Adams-Smith
Condolence
Dear Glenda, I'm so sorry for your loss. May the Lord bless you in the days ahead.
Tina Loock
Condolence
so sorry for your loss thoughts and prayers go out to all of you.
We are blessed with so many fun times and memories with Joe.
Barb Romans Huff
Condolence
Joe. Was one of the best Of best
I'm greatly honored to have known him
Roger Rollene
Condolence
miss you uncle Joe you always made me feel right at home. So some of the best times in my life was with you uncle Joe and aunt Glenda whether it be hunting Or just Riding mules always had a great time loved siting around the camp fire and listening to your many tales some fact and some tall tails they were all good. May you clear a path for me for I shall see you soon
Daniel Morris Rice
Condolence
Sorry to hear about this in you family. This is one loveable person that will be missed always. Hope all goes well. Love always from this member of the family here In the Bourse desert.
Marvin Thomas Gombert
Condolence
So sorry and pray for gods peace. He will be missed.
Gloria Simon
Condolence
So very sorry for your loss. Joe was a good friend and a stalwart member of our local equine community. His presence will be greatly missed. Prayers for strength and courage and peace and comfort during this difficult time!!!
Kaye Ottley
Condolence
Glenda, I'm so sorry to hear of Joe's passing. He was a great friend. I Often think of the times we had together in Az. Riding our mules with the wagons, barn dances, making movies , or just telling STORIES on the patio. He was a special Man. Fun to be with and laugh with. I know you will really miss him. May God Be with you in the days ahead to comfort And strengthen you. He is always with you. I am praying for you. I love you.
Linda Hayes
Condolence
I am sorry for y'all's loss grandpa was a great guy n I will always remember the memories with him
Audrey Schaeffer
Condolence
I always took you like a grandpa i miss you and I love you i am glad we spend a couple last days t before you passed
Mason Adams
Condolence
Lord,
May you bless both me
and my string this day.
May our trails be wide,
our oat bin full,
and grass along the way.
May there be streams a-plenty,
and your gentle breeze
be always at my back.
Then when at last,
around my fire I sit,
and day is through.
I'll give thee thanks,
for I'll be found
at peace with you
David Bainter
Share A Condolence
* The funeral home reserves the right to reject or edit any condolence