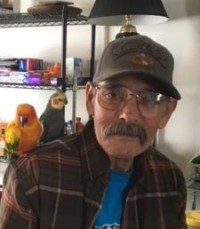 Delfinio Archuleta
Born:
Thursday Jan-29-1948
Died:
Wednesday Jun-23-2021
Funeral:
To Be Announced
Morrison Funeral Home
& Crematory
188 S. Hwy 24
Rupert, Idaho 83350
Contact and Directions
Delfinio Archuleta 73, resident of Heyburn, Idaho passed away peacefully on June 23, 2021 at St. Luke's Magic Valley Hospital in Twin Falls, Idaho after a long battle with cancer.
He had a strong work ethic and worked at Idahoan in Rupert, Idaho for 15 years.  He enjoyed gardening and tending to his birds.  He is survived by his daughter Sylvia Casaos, son in law Eliazar Casaos, his grandsons Lot Ramirez, Job Ramirez, and Dr. Joshua Casaos. He is also survived by his daughter in laws Maritza Ramirez, Mariah Ulrich, and his great grandchildren Alex Ramirez, Mathia Ramirez, Ileena Ramirez, Iesha Ramirez, Lot Ramirez Jr., Isiah Ramirez, Nathanial Ramirez, Mia Ramirez, and his great great grandchild.
Delfinio was predeceased by his wife Ofelia Archuleta, his parents, brother, and sister.  He will be buried by his wife at the Heyburn Riverside Cemetery.
Thanks for your prayers and support.  Services are under the direction of Morrison Funeral Home
Share A Condolence
* The funeral home reserves the right to reject or edit any condolence